Howlin' Wolf, 6/23 10am-7pm
Main Room
Throughout the day, the main room at The Howlin' Wolf will feature ongoing free demos and lightning talks.
10am Make'n'Shake opens. Come visit special exhibits from New Orleans partners, learn about national non-profit partnership opportunities, get hands-on tutorials, or just pull up to the bar and relax.
12-1:30pm Lunchtime Lighting Talks from Every Library, Paper Monuments, Library of Congress Labs, P2PU, The Guardians Institute, Dokk1, and more.
12-2pm New Orleans lunch. Drop by for lunch, featuring New Orleans specialties, (free while it lasts--pick up a token from one of the hosts).
1-3pm Hansen's Sno-bliz! Also known as internal air conditioning, enjoy a New Orleans summer favorite (free while supplies last--pick up a token from one of the hosts)
3-4:30pm Afternoon Lightning Talks from Regional Foundation Center at Free Library, Memories of Migration, A Closer Walk, Historypin's Storybox, MIT Media Lab, The Library Collective, Digital Public Library of America, and more.
the den
The Den, a separate space adjacent to the main room, will feature free in-depth conversations and workshops from library and community partners.
10-11am Librarians as Candidates workshop by EveryLibrary
11-12pm Bring Scratch + micro:bit Coding to Your Library workshop by MIT Media Lab
12:30-1:30pm Build a Data Culture in Your Community workshop by MIT Media Lab
1:30-2:30pm Voter Data workshop by EveryLibrary
2:30-3pm Using Data to Drive Mission workshop by Foundation Center
3-4pm Community Learning Practices workshop by Peer to Peer University
4-4:45pm Waterways Documentary screening by Louisiana Endowment for the Humanities
4:45-5pm "Librarianship" Q&A by The Library Collective
Save a seat!
All events are free and welcome to walk-ins, but space may be limited in some workshops. Save a Spot
5-7 Happy Hour with Stooges Brass Band Join us for happy hour at The Howlin' Wolf to meet up with others at the intersection of non-profits and libraries, and get down with the New Orleans sound of the Stooges Brass Band.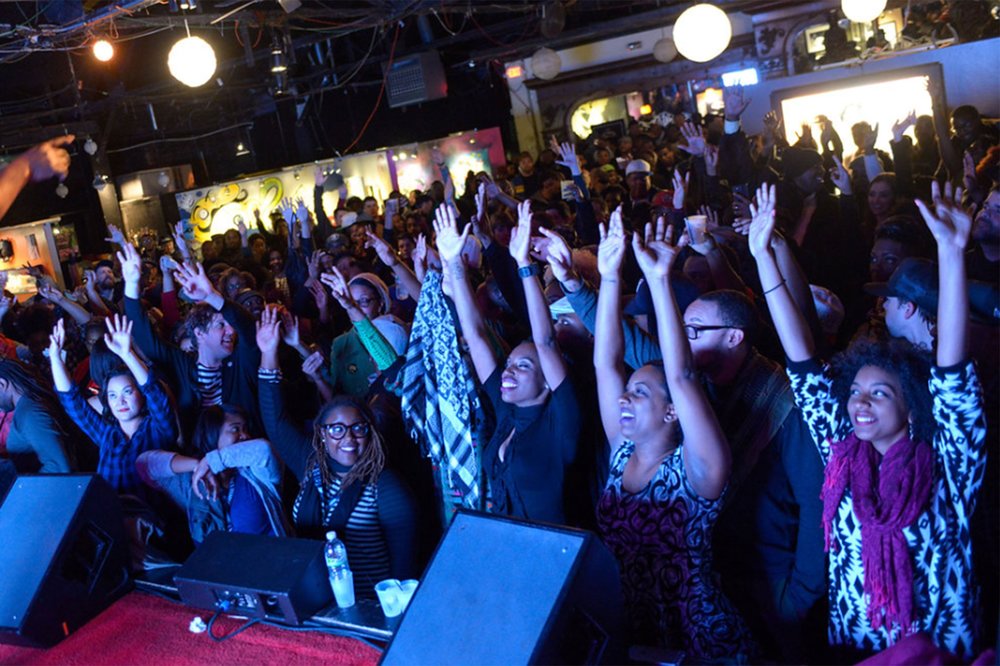 photos courtesy of The Howlin' Wolf