Library Make'n'shake
#makenshake
When: June 23rd, 10am-5pm
Where: The Howlin' Wolf, 907 S Peters St (2 blocks from the Convention Center)
Welcome Back to New Orleans!
The city has been busy since the last time the American Library Association was in town. After Katrina, "the librarians," as New Orleanians remember, were the first convention to return and signal to the world that New Orleans was open for business. That was a risk then, but it paid off. New Orleans has used its resources to shake things up, change, regrow, and find new ways to exist outside of convention. Thanks to generous support from the John S. and James L. Knight Foundation and an Anonymous Donor, we want to celebrate creative engagement in libraries through a third-space, national non-profit showcase and open house.
We're throwing a party, and you're invited!
The Library Make'n'Shake welcomes all types of library staff, educators, and community partners to drop by the Howlin' Wolf for hands-on demos and projects accompanied by a brass band, a bar, food, and snowballs from 10am-7pm Saturday, June 23. This event is free and open to the public.
Grab lunch or a drink and gather ideas and connections for your library. Come by lightning talks to get the story on New Orleans community groups doing cool stuff, and learn about national non-profit partnership opportunities.
Historypin will be hosting story sharing activities with the launch of their new Storybox program. MIT Media Lab will host hands-on demos ranging from the food computer, to data stories, to circuit stickers. Community partners across the country will be sharing their work, and local organizations will give you a sense of what we've been up to in the last 12 years.
Stooges Brass Band starts at five, the bar is open all day, a New Orleans lunch will be served at noon, and we'll have Hansen's snoballs from from 1-3pm.
See full schedule and the latest news.
Howlin' Wolf, 6/23 10am-7pm
Main Room
Throughout the day, the main room at The Howlin' Wolf will feature ongoing free demos and lightning talks.
10am Make'n'Shake opens. Come visit special exhibits from New Orleans partners, learn about national non-profit partnership opportunities, get hands-on tutorials, or just pull up to the bar and relax.
12-1:30pm Lunchtime Lighting Talks from Every Library, Paper Monuments, Library of Congress Labs, P2PU, The Guardians Institute, Dokk1, and more.
12-2pm New Orleans lunch. Drop by for lunch, featuring New Orleans specialties, (free while it lasts--pick up a token from one of the hosts).
1-3pm Hansen's Sno-bliz! Also known as internal air conditioning, enjoy a New Orleans summer favorite (free while supplies last--pick up a token from one of the hosts)
3-4:30pm Afternoon Lightning Talks from Regional Foundation Center at Free Library, Memories of Migration, A Closer Walk, Historypin's Storybox, MIT Media Lab, The Library Collective, Digital Public Library of America, and more.
the den
The Den, a separate space adjacent to the main room, will feature free in-depth conversations and workshops from library and community partners.
10-11am Librarians as Candidates workshop by EveryLibrary
11-12pm Bring Scratch + micro:bit Coding to Your Library workshop by MIT Media Lab
12:30-1:30pm Build a Data Culture in Your Community workshop by MIT Media Lab
1:30-2:30pm Voter Data workshop by EveryLibrary
2:30-3pm Using Data to Drive Mission workshop by Foundation Center
3-4pm Community Learning Practices workshop by Peer to Peer University
4-4:45pm Waterways Documentary screening by Louisiana Endowment for the Humanities
4:45-5pm "Librarianship" Q&A by The Library Collective
Save a seat!
All events are free and welcome to walk-ins, but space may be limited in some workshops. Save a Spot
5-7 Happy Hour with Stooges Brass Band Join us for happy hour at The Howlin' Wolf to meet up with others at the intersection of non-profits and libraries, and get down with the New Orleans sound of the Stooges Brass Band.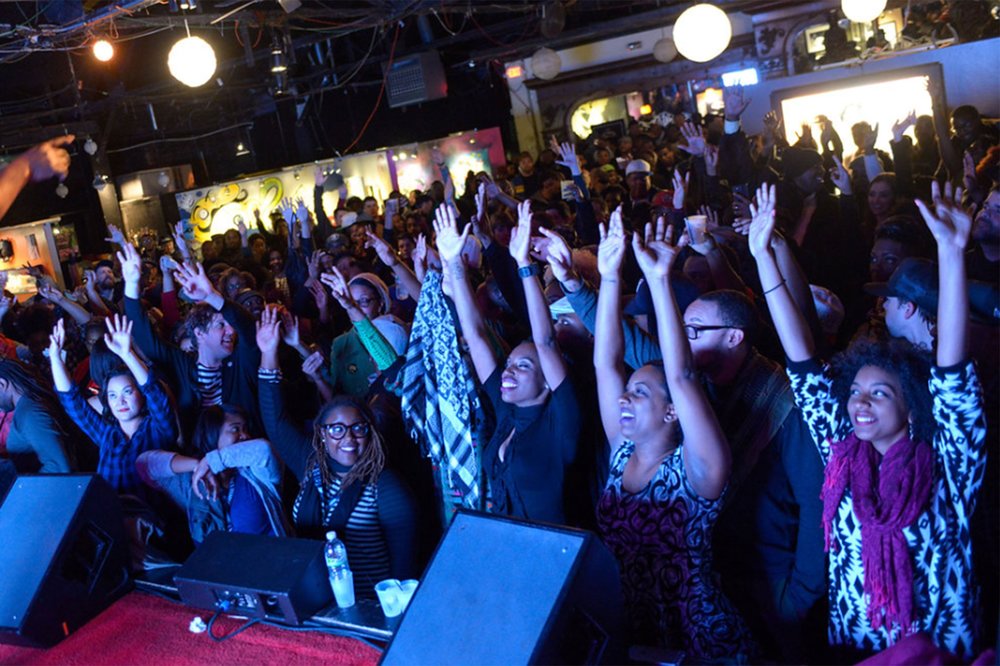 photos courtesy of The Howlin' Wolf
The Library Make'n'Shake will take place at The Howlin' Wolf (907 S Peters St), a music venue just 2 blocks away from the Convention Center.
Anonymous Donor
SPONSORING PARTNERS:
All Events of the Make'n'Shake are free
You can simply show up and enjoy (no ticket needed)
We do ask you to sign up for workshops, film screenings, and happy hour as there are a limited number of spots.
Get Involved
Let us know if you'd like to get involved with this year's Library Make'n'Shake. You can reach out to Hali at Historypin.